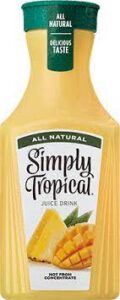 Did Coca-Cola know that its juice exceeded PFAS levels hundreds of times?  A class-action lawsuit has been filed in the US against Coca-Cola and Simply Tropical.  The lawsuit alleges that the companies have misled consumers by claiming that their juice is an all-natural and healthy product.  On the contrary, the juice has been found to contain PFAS (per- and polyfluoroalkyl substances).
PFAS are toxic chemicals commonly used in various consumer products to resist water, heat and stains. The lawsuit states that the PFAS levels in the  juice produced by Coca-Cola are "hundreds of times" higher than the federal limits. PFAS are known to cause a range of serious health problems.  They include cancer, liver and kidney disease, autoimmune disorders and fetal complications. Although the FDA tests some food products annually for PFAS, it hasn't taken appropriate action to address food contamination. Consequently, more lawsuits are expected in the future.
The Environmental Defense Fund, a non-profit organization, is pressuring the FDA to take stronger action against PFAS. The lawsuit, which was filed in the southern district of New York, seeks monetary compensation and other appropriate steps. A Coca-Cola spokesperson has confirmed that the company is aware of the lawsuit and stands by the quality of its products.